The Toolbox for teams to build culture,
release people's potential and work remotely.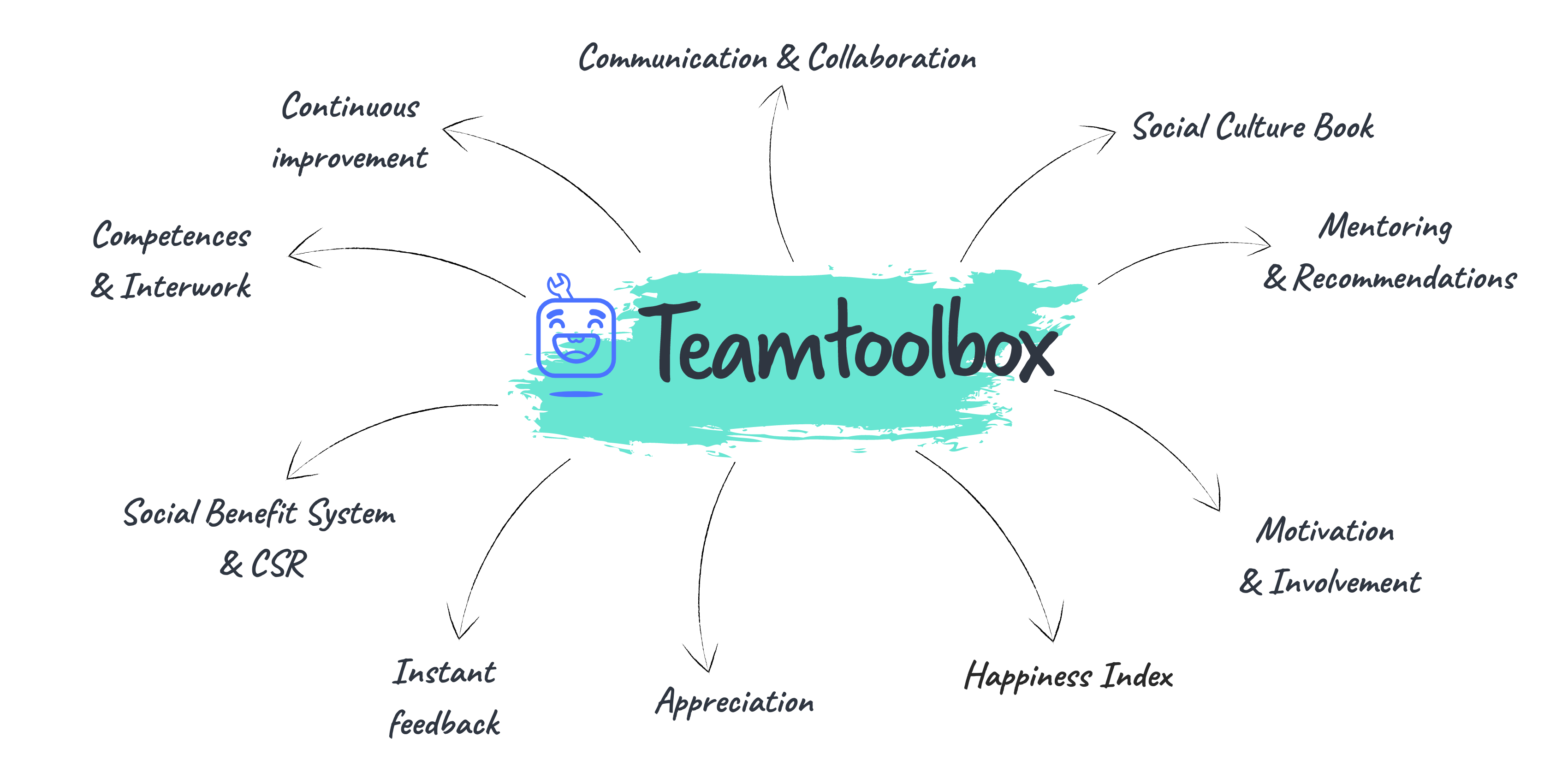 Are you wondering how to support your remotely working employees?
The sense of unity within the team drops with another video conference, without the video on and the ever, overly formal emails, our language becomes professional, dry and devoid of a social dimension. 
Using only the tools necessary to work and maintain communication limits our ability to create and maintain relationships, and the lack of direct contact limits the ability to respond in real time to problems that arise. 
Before the reality changed, even hearing the supervisor say "WELL DONE!" in the hallway made one feel better about his job. Today, employees who do not feel supported by their actions, or who do not feel noticed and appreciated, are distancing themselves from their employer and losing their sense of security.
You are able to support open communication, to monitor moods in teams to react immediately to negative changes and problems that arise to prevent excessive and unnecessary staff turnover.
This tool kit allows you to made a real impact on shaping the atmosphere in the Company, with a non-verbal manner, without negative connotations, facilitates the open communication of expectations and an appreciation of success.
TeamToolbox helps you to have a dialogue with your employees without the need for direct contact so even working remotly you can publicly and directly show gratitude or appreciation and give feedback or support to your team members using only one application!
TeamToolbox was specifically created to reinforce interpersonal relationships under conditions of remote work
and work in distributed teams. It offers you many solutions supporting an open communication
based on respect and mutual appreciation, give your people a chance to grow and create an uniqe culture.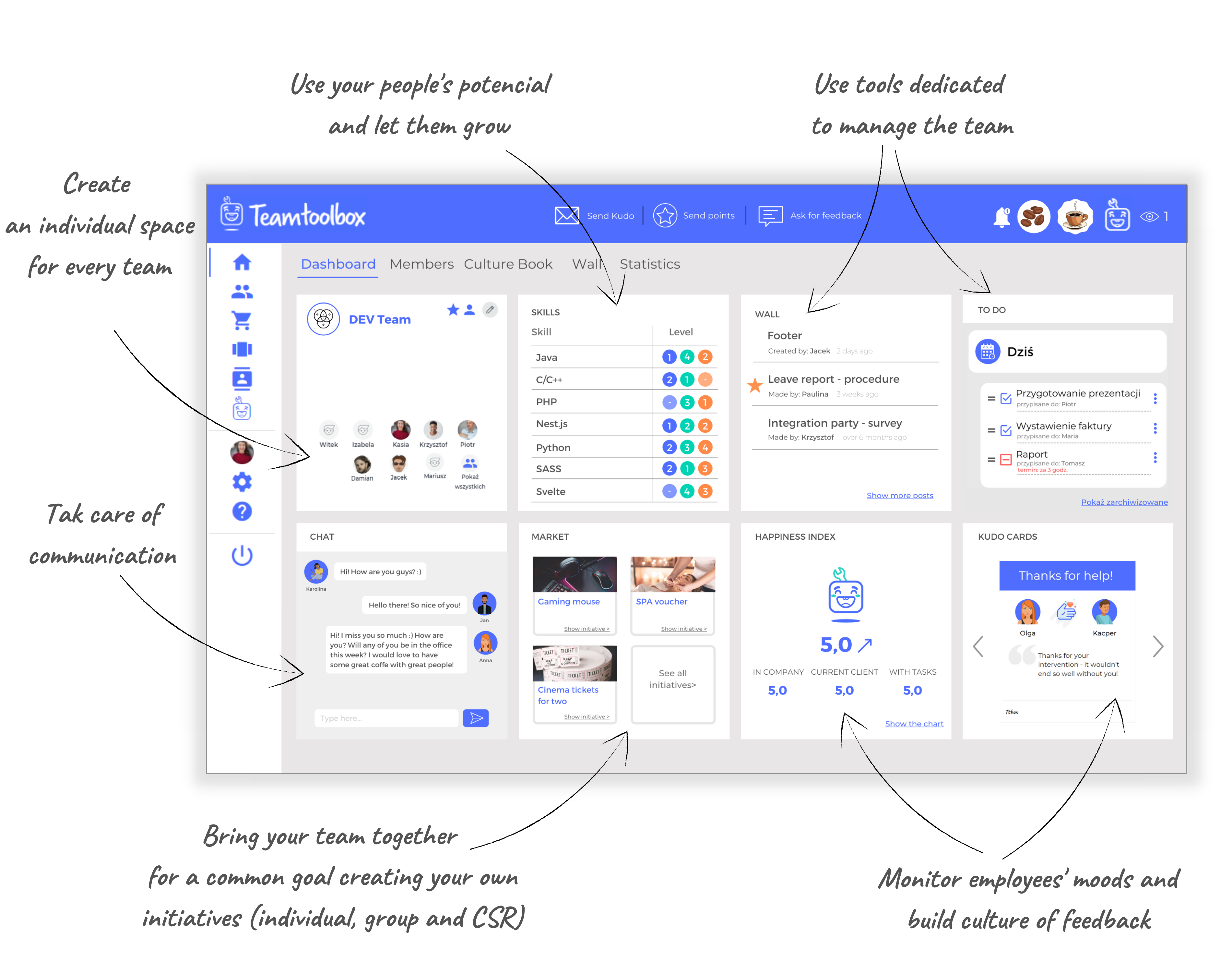 You do not need payment card to register.
Effectiveness confirmed in practice
Don't take our word for it – just see what our clients think!
I had the pleasure to be one of the very first managers at the ICAN Institute to receive access to TeamToolbox for my team with full implementation. The tool has opened the door for us to more effective communication, joint initiatives and developing a solid feedback culture. The biggest advantage of the tool is that it doesn't sap much time from our daily workflow and yet it causes huge changes incooperation, mutual understanding and maintaining good relationships. An inseparable and very important element is the support of the TeamToolbox team, thanks to which we were able to go through each stage of the change smoothly and with a great sense of understanding.
– Dominika Krycińska, 
Executive Edutacion Director, 
ICAN Institute
During the first week of the 30-day test trial month we were able to prevent the departure of one of our employees. All of this thanks to the individual approach and quick response to the problem that TeamToolbox offered.
– Bartłomiej Badura, 
Scrum Master & Member of Management Board 
Warsaw Mathematical Institute

In November 2019, I decided to implement TeamToolBox in our organization. What convinced me was the potential I saw in the application itself and also the crew behind it. It is hard to overstate the commitment of Izabela, Patrycja's willingness to help or Piotr's perfectionism, all of whom support every user in the application service.  Looking at it from the perspective of several months I assess it as a great decision. TeamToolBox effectively supports our teams. I congratulate the creators of the idea and wish them all the best in further development."
Have a question?
Want to check if TeamToolbox is for you and your team?