What does Kudo and rewarding have in common?
Kudo cards are not just a simple game or a way to say thank you, but more importantly they are a form of rewarding and appreciating your employees!
The role of Kudos in the reward process is to appeal to the basic psychological need of feeling that one's efforts are noticed and appreciated. To make the process more interesting, or to encourage your employees to donate cards, you can introduce weekly draws, where two Kudo cards donated in the past week are drawn from a pool and the sender and recipient of those cards are rewarded with a small gift. This worked well for us! 🙂
The proof that Kudos have a lot to do with the process of rewarding is that they perfectly fit into the 6 principles of rewarding according to Jurgen Appelo. They clearly define how and when the reward process should be conducted in order to be effective and positively influence the increase of employees' motivation and engagement in tasks they perform.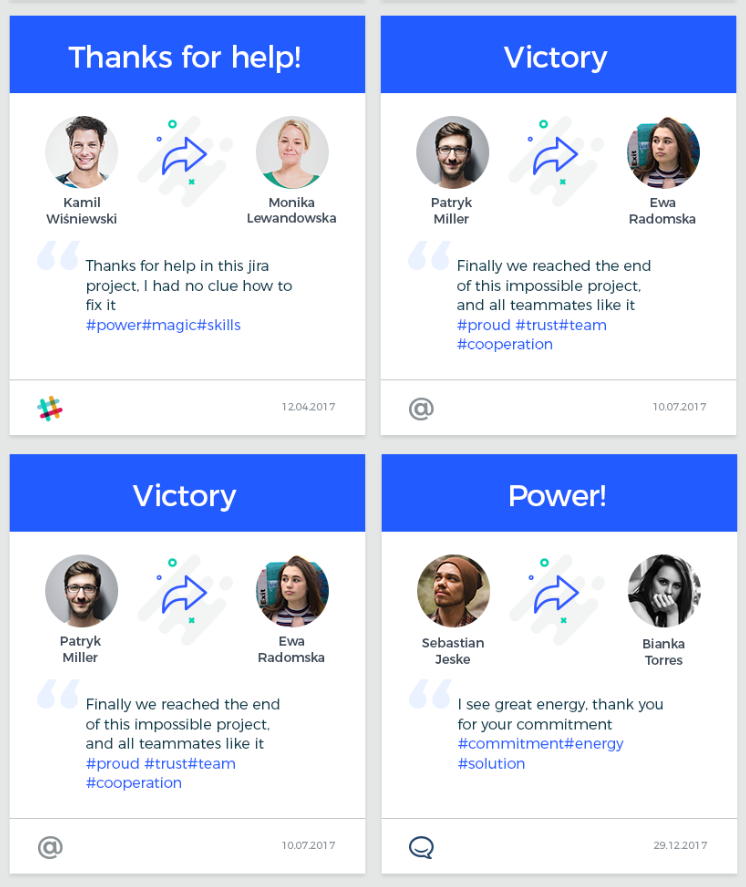 6 principles of rewarding according to Jurgen Appelo.:
Don't promise rewards in advance

– promising rewards can negatively affect an employee's intentions and motivation, so use Kudos cards whenever you see an opportunity!

Reward continuously, not once

– don't look for reasons to celebrate once a month or quarter – each day of collaboration can provide new reasons to appreciate others' efforts and send a Kudo card!

Reward publicly, not privately.

– this is what the Kudo cards wall will help you with. Recognition or thanks given in public is a pleasure for the rewarded and acts as a motivator for those who witness it.

Keep anticipated rewards small

, , so by not having a financial value tied to Kudo cards, such a reward emphasizes its symbolic nature – employees care about receiving the reward itself, not its value.

Reward peers, not subordinates

– because they are the ones who see the actions of others towards a common goal. So let them participate in appreciating the actions of others!

Reward behavior, not outcome

– the same result can be achieved in a thousand ways (not necessarily the best), so it is the decisions made and values held that are the real value. Appreciate them!
By implementing Kudo cards as part of your organization's appreciation culture, you gain:
the ability to show appreciation, feedback and support with one tool,
a tool that is available to all team members, even in remote working conditions,
improvement in relationships within teams,
positive impact on employee motivation and satisfaction,
open communication based on respect and mutual appreciation,
a simple way to reward people.
If you want to learn about the methods and solutions that helped us implement Kudo cards – contact us at
hello@teamtoolbox.io
– we will be glad to share our experience!