If you are the main administrator, you can grant different permissions to particular users.
To do so, click a gear wheel on your left menu and choose "Roles" at the top.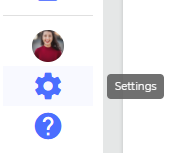 Now you have two possibilities:
to choose from available default options like Administrator or Kudo & HI Manager,
to create a new Role with specific permissions that meets your needs.
Choosing one of available Roles allows you to grant particular permissions assigned by default. You can also modify them by adding or deleting permissions from list, depending on your needs.
* But remember – if you modify permissions of Role that has users already assigned to, it changes it for all those people.
If you decide to create a new Role, you will need to go to settings of Roles and to choose "+Add" button. Then just name your new Role, add user's you want to grant and pick suitable permissions from the list of the available ones. Click "Save" and it's done 🙂